Falcon-class Light Cruiser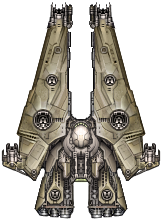 Logistical Data
| | |
| --- | --- |
| Recovery rate (per day) | 4% |
| | |
| --- | --- |
| Recovery cost (supplies) | 15 |
| | |
| --- | --- |
| Peak performance (sec) | 480 |
| | |
| --- | --- |
| Maintenance (sup/month) | 15 |
| | |
| --- | --- |
| Fuel per l.y. & jump cost | 3 |
Combat Performance
Mounts
2x Small Missile
2x Medium Ballistic
2x Medium Energy
4x Small Energy
Often called the Eagle cruiser's little brother, the Falcon-class cruiser sacrifices armor for speed, neatly filling the light cruiser role in military fleets throughout the Sector.

The "light" designation does not indicate a significant reduction in firepower, however, making the Falcon a valuable tactical asset to any fleet. The ship is easily able to fill a wide variety of roles, from close support to assault, given the proper configuration.

The Falcon's top notch engines give it the ability to quickly disengage from battle should its defenses be pressed to a critical point.

Swift and elegant, Falcon-class cruisers are often found as lead elements in larger fleet formations, or deployed to reinforce anti-pirate convoys.

–In-Game Description
Falcon-class Light Cruiser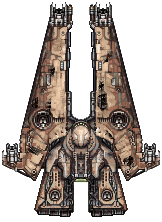 Logistical Data
| | |
| --- | --- |
| Recovery rate (per day) | 4% |
| | |
| --- | --- |
| Recovery cost (supplies) | 10 (-5) |
| | |
| --- | --- |
| Peak performance (sec) | 480 |
| | |
| --- | --- |
| Maintenance (sup/month) | 15 |
| | |
| --- | --- |
| Fuel per l.y. & jump cost | 3 |
Combat Performance
| | |
| --- | --- |
| Flux capacity | 5600 (-1400) |
| | |
| --- | --- |
| Flux dissipation | 280 (-70) |
Mounts
2x Small Missile
2x Medium Ballistic
2x Medium Energy
2x Small Energy
Hull mods
Degraded Engines
Faulty Power Grid
Ships that would be decommissioned in quieter times now see a widespread use throughout the Sector. The hull designation for such ships is usually tagged with a "D", for "damaged" or "defective".

Often called the Eagle cruiser's little brother, the Falcon-class cruiser sacrifices armor for speed, neatly filling the light cruiser role in military fleets throughout the Sector.

The "light" designation does not indicate a significant reduction in firepower, however, making the Falcon a valuable tactical asset to any fleet. The ship is easily able to fill a wide variety of roles, from close support to assault, given the proper configuration.

The Falcon's top notch engines give it the ability to quickly disengage from battle should its defenses be pressed to a critical point.

Swift and elegant, Falcon-class cruisers are often found as lead elements in larger fleet formations, or deployed to reinforce anti-pirate convoys.

–In-Game Description
Falcon-class Light Cruiser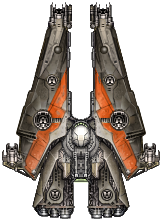 Logistical Data
| | |
| --- | --- |
| Recovery rate (per day) | 4% |
| | |
| --- | --- |
| Recovery cost (supplies) | 15 |
| | |
| --- | --- |
| Peak performance (sec) | 480 |
| | |
| --- | --- |
| Maintenance (sup/month) | 15 |
| | |
| --- | --- |
| Fuel per l.y. & jump cost | 3 |
Combat Performance
| | |
| --- | --- |
| Flux capacity | 7,350 (+349) |
| | |
| --- | --- |
| Flux dissipation | 367 (+17) |
Mounts
2x Small Missile
2x Medium Ballistic
2x Medium Energy
4x Small Energy
| | |
| --- | --- |
| Hull mods | Fourteenth Battlegroup |
A survivor of the original 14th Domain Battlegroup which founded the Hegemony, this ship is a prime specimen of the Domain Navy's 'decisive battle' doctrine, particularly exhibited by a series of radical structural modifications performed using pre-Collapse industrial technology.

Often called the Eagle cruiser's little brother, the Falcon-class cruiser sacrifices armor for speed, neatly filling the light cruiser role in military fleets throughout the Sector.

The "light" designation does not indicate a significant reduction in firepower, however, making the Falcon a valuable tactical asset to any fleet. The ship is easily able to fill a wide variety of roles, from close support to assault, given the proper configuration.

The Falcon's top notch engines give it the ability to quickly disengage from battle should its defenses be pressed to a critical point.

Swift and elegant, Falcon-class cruisers are often found as lead elements in larger fleet formations, or deployed to reinforce anti-pirate convoys.

–In-Game Description
The Falcon is a midline light cruiser. A smaller version of the Eagle, it trades firepower and armor for speed.
With a speed exceeding that of many destroyer-sized vessels and which can be further augmented by Maneuvering Jets, the Falcon offers a fair amount of firepower in a highly mobile and moderately survivable package.
Change History
Edit
0.8a
increased the burn level to 9

Only up to date for version 0.8a-RC19. It is likely still broadly correct but not verified for the most up to date data yet. Please double check the
Version History
Ad blocker interference detected!
Wikia is a free-to-use site that makes money from advertising. We have a modified experience for viewers using ad blockers

Wikia is not accessible if you've made further modifications. Remove the custom ad blocker rule(s) and the page will load as expected.