Hammerhead-class Destroyer
Logistical Data
| | |
| --- | --- |
| Recovery rate (per day) | 5% |
| | |
| --- | --- |
| Recovery cost (supplies) | 8 |
| | |
| --- | --- |
| Peak performance (sec) | 360 |
| | |
| --- | --- |
| Maintenance (sup/month) | 8.0 |
| | |
| --- | --- |
| Fuel per l.y. & jump cost | 2 |
Combat Performance
Mounts
2x Small Missile
2x Medium Ballistic
4x Small Hybrid
A midline destroyer from the golden age of the Domain, the Hammerhead is respected for its staying power in battle as well as its ballistic capabilities.

–In-Game Description
Hammerhead-class Destroyer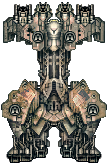 Logistical Data
| | |
| --- | --- |
| Recovery rate (per day) | 5% |
| | |
| --- | --- |
| Recovery cost (supplies) | 4 (-4) |
| | |
| --- | --- |
| Peak performance (sec) | 360 |
| | |
| --- | --- |
| Maintenance (sup/month) | 8.0 |
| | |
| --- | --- |
| Fuel per l.y. & jump cost | 2 |
Combat Performance
| | |
| --- | --- |
| Flux capacity | 3,360 (-840) |
| | |
| --- | --- |
| Flux dissipation | 200 (-50) |
Mounts
2x Small Missile
2x Medium Ballistic
4x Small Hybrid
Hull mods
Degraded Engines
Compromised Armor
Faulty Power Grid
Ships that would be decommissioned in quieter times now see widespread use throughout the Sector. The hull designation for such ships is usually tagged with a "D", for "damaged" or "defective".

A midline destroyer from the golden age of the Domain, the Hammerhead is respected for its staying power in battle as well as its ballistic capabilities.

–In-Game Description
The Hammerhead is a versatile midline destroyer that performs well both as flagship and escort.
True to its name, the Hammerhead is all about the head-on engagement owing to its front shield and large amount of forward-facing hardpoints; its side and rear firepower is limited to the four small hybrid turrets. The Extended Shields hullmod will give 360° coverage.
Suggested Strategies and Loadouts
Edit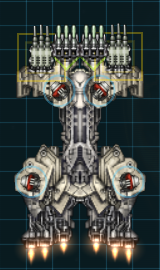 Skirmisher Variant (custom): This "kinetics 'n missiles" loadout uses its twin Heavy Autocannons to pummel enemy shields and hits them with the Harpoon MRMs when they're vulnerable. Including the Expanded Missile Racks hullmod ensures a sufficient supply of Harpoons for the Hammerhead to get the job done.
Change History
Edit
0.8a
Ordnance points increased by 5
Accelerated Ammo Feeder: now reduces ballistic flux cost by 50% (was: 30%)

Only up to date for version 0.8a-RC19. It is likely still broadly correct but not verified for the most up to date data yet. Please double check the
Version History
Ad blocker interference detected!
Wikia is a free-to-use site that makes money from advertising. We have a modified experience for viewers using ad blockers

Wikia is not accessible if you've made further modifications. Remove the custom ad blocker rule(s) and the page will load as expected.