Odyssey-class Battlecruiser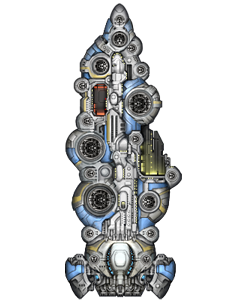 Logistical Data
| | |
| --- | --- |
| Recovery rate (per day) | 4% |
| | |
| --- | --- |
| Recovery cost (supplies) | 45 |
| | |
| --- | --- |
| Peak performance (sec) | 600 |
| | |
| --- | --- |
| Maintenance (sup/month) | 45 |
| | |
| --- | --- |
| Fuel per l.y. & jump cost | 10 |
Combat Performance
Mounts
3x Large Energy
3x Medium Missile
12x Small Energy
The asymmetric, spheroid design belies the power of this battlecruiser. The base hull presents a tactical setup that favors energy weapons and mobility. Carrier capabilities further augment its tactical options.

–In-Game Description
Despite its strange appearance all 3 Large energy slots are capable of firing on the same target, as such it is recommended that you assign all 3 to the same weapon group set along with the Linked fire mode setting. This allows you to see the "Sweet Spot" and orient your ship accordingly.
This subtle feature combined with High Energy Focus makes the Odyssey far more deadly than it appears at first glance.
Change History
Edit
0.8.1a-RC5
Fighter Bays increased from 1 to 2
Max speed increased from 50 to 80
Acceleration increased from 25 to 50
Deceleration increased from 15 to 30
Turn acceleration increased from 8 to 12
Shield efficiency reduced from 0.8 to 1
Peak Performance Time reduced from 660 to 600
0.8a
increased burn level by 1

Only up to date for version 0.8.1a-RC5. It is likely still broadly correct but not verified for the most up to date data yet. Please double check the
Version History
Ad blocker interference detected!
Wikia is a free-to-use site that makes money from advertising. We have a modified experience for viewers using ad blockers

Wikia is not accessible if you've made further modifications. Remove the custom ad blocker rule(s) and the page will load as expected.