Onslaught-class Battleship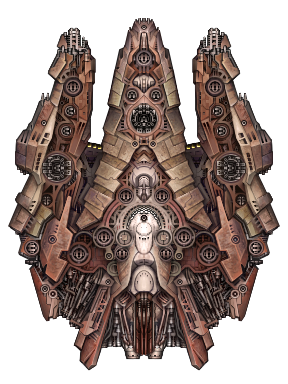 Logistical Data
| | |
| --- | --- |
| Recovery rate (per day) | 3% |
| | |
| --- | --- |
| Recovery cost (supplies) | 40 |
| | |
| --- | --- |
| Peak performance (sec) | 720 |
| | |
| --- | --- |
| Maintenance (sup/month) | 40 |
| | |
| --- | --- |
| Fuel per l.y. & jump cost | 15 |
Combat Performance
Mounts
3x Large Ballistic
4x Medium Missile
6x Small Ballistic
9x Medium Ballistic
A venerable design the Onslaught-class battleships were first created to serve the Domain of Man eons ago, before the development of advanced strike weapons, fighter craft, modern energy weapons, and shield systems.

When first launched from orbital dock, they must have surely dwarfed any other ship in existence and intimidated entire systems. Some even say that they were built to combat non-humans in a long forgotten war, in which the Domain was triumphant. Much later, Domain engineers made modifications to the blueprints to include a shield system, upgrade the FTL drives and reduce the necessary crew complement. Even with other battleship blueprints available to the Sector, the Onslaught remains the easiest to manufacture due to the brutal simplicity of its systems.

A ship designed without shields in mind, built to be able to withstand a heavy barrage of enemy fire and strike back while protecting its crew is much loved by its officers and men. And strike back it can. The Onslaught's unmatched ballistic potential can devastate entire fleets in minutes, its only drawback a logistical dependency on ammunition.

Building an Onslaught-class hull and preparing it for combat is thought to be economically impossible for all but the Hegemony. The Onslaught-class proudly serves as the backbone of the Hegemony Defense Fleet.

–In-Game Description
Onslaught-class Battleship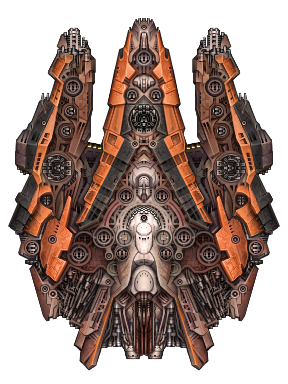 Logistical Data
| | |
| --- | --- |
| Recovery rate (per day) | 3% |
| | |
| --- | --- |
| Recovery cost (supplies) | 40 |
| | |
| --- | --- |
| Peak performance (sec) | 720 |
| | |
| --- | --- |
| Maintenance (sup/month) | 40 |
| | |
| --- | --- |
| Fuel per l.y. & jump cost | 15 |
Combat Performance
| | |
| --- | --- |
| Armor rating | 1,850 (+100) |
| | |
| --- | --- |
| Flux capacity | 17,850 (+850) |
| | |
| --- | --- |
| Flux dissipation | 630 (+30) |
Mounts
3x Large Ballistic
4x Medium Missile
6x Small Ballistic
9x Medium Ballistic
| | |
| --- | --- |
| Hull mods | Fourteenth Battlegroup |
A survivor of the original 14th Domain Battlegroup which founded the Hegemony, this ship is a prime specimen of the Domain Navy's 'decisive battle' doctrine, particularly exhibited by a series of radical structural modifications performed using pre-Collapse industrial technology.

A venerable design the Onslaught-class battleships were first created to serve the Domain of Man eons ago, before the development of advanced strike weapons, fighter craft, modern energy weapons, and shield systems.

When first launched from orbital dock, they must have surely dwarfed any other ship in existence and intimidated entire systems. Some even say that they were built to combat non-humans in a long forgotten war, in which the Domain was triumphant. Much later, Domain engineers made modifications to the blueprints to include a shield system, upgrade the FTL drives and reduce the necessary crew complement. Even with other battleship blueprints available to the Sector, the Onslaught remains the easiest to manufacture due to the brutal simplicity of its systems.

A ship designed without shields in mind, built to be able to withstand a heavy barrage of enemy fire and strike back while protecting its crew is much loved by its officers and men. And strike back it can. The Onslaught's unmatched ballistic potential can devastate entire fleets in minutes, its only drawback a logistical dependency on ammunition.

Building an Onslaught-class hull and preparing it for combat is thought to be economically impossible for all but the Hegemony. The Onslaught-class proudly serves as the backbone of the Hegemony Defense Fleet.

–In-Game Description
The Onslaught is a large low-tech battleship with strong armor and great frontal firepower, essentially a larger version of the Dominator. It it slow to maneuver and has a relatively poor shield, but its Burn Drive ship system lets it get to the fight quickly.
The side large turrets cannot reach a target directly in front of the ship, although turning slightly away from the target will allow them to engage.
Escorts are helpful for keeping flanking enemies away from the Onslaught's relatively unprotected rear.

Only up to date for version 0.8a-RC19. It is likely still broadly correct but not verified for the most up to date data yet. Please double check the
Version History