Paragon-class Battleship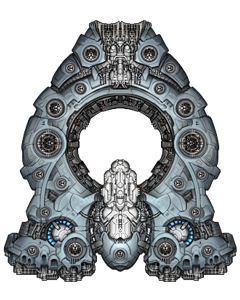 Logistical Data
| | |
| --- | --- |
| Recovery rate (per day) | 4% |
| | |
| --- | --- |
| Recovery cost (supplies) | 50 |
| | |
| --- | --- |
| Peak performance (sec) | 720 |
| | |
| --- | --- |
| Maintenance (sup/month) | 50 |
| | |
| --- | --- |
| Fuel per l.y. & jump cost | 10 |
Combat Performance
Mounts
2x Medium Universal
4x Small Missile
4x Large Energy
4x Medium Energy
9x Small Energy
The pinnacle of the Domain's battleship designs, though perhaps less the result of military necessity and more of the ambitions of certain senior strategic staff of the Domain Navy with considerable backing from the Tri-Tachyon corporation, among other major contractors.

No ship can outlast or outgun the Paragon-class, a true Leviathan of a bygone epoch.

–In-Game Description
The Paragon is a high-tech battleship, slow but powerful. Its fairly sturdy armor and hull, strong 360° omni shield (particularly with the Fortress Shield ship system), high flux stats and considerable firepower in all directions make it very difficult to take down, even with superior numbers and flanking.
Despite its massive flux capacity and dissipation, the Paragon still can't hold its own against large packs of smaller ships and it will overload/lower its shield rather quickly once surrounded as it attempts to fire all of its flux-heavy weapons simultaneously.
As such, you should never send it into battle without escorts.
Change History
Edit
Paragon's Advanced Targeting Core modified to only add 50% range for PD weapons (still 100% for other weapons)

Only up to date for version 0.8a-RC19. It is likely still broadly correct but not verified for the most up to date data yet. Please double check the
Version History