Salvage Rig-class Auxiliary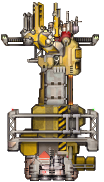 Logistical Data
| | |
| --- | --- |
| Recovery rate (per day) | 5% |
| | |
| --- | --- |
| Recovery cost (supplies) | 3 |
| | |
| --- | --- |
| Peak performance (sec) | 360 |
| | |
| --- | --- |
| Maintenance (sup/month) | 3.0 |
| | |
| --- | --- |
| Fuel per l.y. & jump cost | 2 |
Combat Performance
Originally designed to assist in assembling large ships and orbital installations, the salvage rig's gantry and manipulators are used to assist in recovering derelict hulks and scavenging useful material from wreckage and debris fields. The rig itself has no cargo or fuel capacity and requires ample supply to maintain. Increases non-combat salvage gained, with more difficult operations being able to make use of more rigs.

–In-Game Description
As a Destroyer sized class the Salvage Rig receives a 25% salvage bonus from its Salvage Gantry, compared to the 10% salvage bonus on the Frigate sized Shepherd class.
Change History
Edit
0.8a
Construction Rig:
Renamed "Salvage Rig"; hullmod is "Salvage Gantry"
Increases base salvage from derelicts by 25% up to a fleetwide maximum equal to the salvage rating
Increases post-battle salvage by up to 10% based on the portion of the battle the Salvage Rig spent deployed

Salvage Gantry: removed bonus to salvage from being deployed in combat, wasn't working right design-wise

Only up to date for version 0.8a-RC19. It is likely still broadly correct but not verified for the most up to date data yet. Please double check the
Version History
Ad blocker interference detected!
Wikia is a free-to-use site that makes money from advertising. We have a modified experience for viewers using ad blockers

Wikia is not accessible if you've made further modifications. Remove the custom ad blocker rule(s) and the page will load as expected.