Shade-class Phase Frigate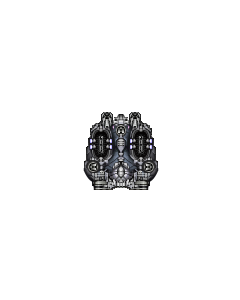 Logistical Data
| | |
| --- | --- |
| Recovery rate (per day) | 10% |
| | |
| --- | --- |
| Recovery cost (supplies) | 8 |
| | |
| --- | --- |
| Peak performance (sec) | 180 |
| | |
| --- | --- |
| Maintenance (sup/month) | 8.0 |
| | |
| --- | --- |
| Fuel per l.y. & jump cost | 1 |
Combat Performance
| | |
| --- | --- |
| Cloak activation cost | 125 |
Mounts
2x Small Universal
3x Small Energy
The smallest phase ship that is currently produced in the Sector, the Shade-class is often used as a scout for larger fleets. In battle, it is valued by fleet admirals for its ability to disable enemy ships with its EMP Emitter.

–In-Game Description
Shade-class Phase Frigate

Logistical Data
| | |
| --- | --- |
| Recovery rate (per day) | 10% |
| | |
| --- | --- |
| Recovery cost (supplies) | 5 (-3) |
| | |
| --- | --- |
| Peak performance (sec) | 180 |
| | |
| --- | --- |
| Maintenance (sup/month) | 8.0 |
| | |
| --- | --- |
| Fuel per l.y. & jump cost | 1 |
Combat Performance
| | |
| --- | --- |
| Cloak activation cost | 125 |
| | |
| --- | --- |
| Flux capacity | 2,000 (-500) |
| | |
| --- | --- |
| Flux dissipation | 240 (-60) |
Mounts
2x Small Universal
1x Small Energy
After the Second AI War, much of the TriTachyon phase fleet was irreperably damaged or otherwise decommissioned due to treaty conditions. Many of these D-grade phase ships were sold to disreputable elements such as black marketeers and pirates who promptly put them back into service.

The smallest phase ship that is currently produced in the Sector, the Shade-class is often used as a scout for larger fleets. In battle, it is valued by fleet admirals for its ability to disable enemy ships with its EMP Emitter.

–In-Game Description
The Shade is a defensive phase frigate.
Change History
Edit
0.8a
EMP ship system energy damage increased to 100 (from 25)

Only up to date for version 0.8a-RC19. It is likely still broadly correct but not verified for the most up to date data yet. Please double check the
Version History
Ad blocker interference detected!
Wikia is a free-to-use site that makes money from advertising. We have a modified experience for viewers using ad blockers

Wikia is not accessible if you've made further modifications. Remove the custom ad blocker rule(s) and the page will load as expected.